YouName
: Gem
Age
: 18
Gender
: Female
Instant Messanger(s)
: gemsom_feathers@yahoo.com
Your muse
Name
: Juka
Alias
: Highness, Majesty
Band
: (ex) Moi dix Mois, Hizaki Grace Project
Gender
: Male
Age
: Unknown
Sexuality
: Dada-sexual
Sexual Position
: Seme
Character Abilities
: Can manipulate ice, and, to some degree, water.
Race
: Demon of Ice
Rank/Position
:White King
Appearance
: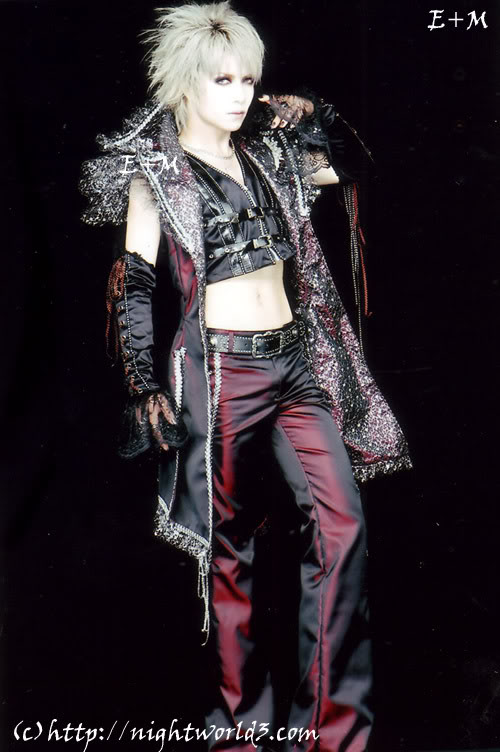 Personality
: Juka is very formal and calculating. His behavior changes depending on who is in his presence. He can be very cold, even cruel. However, he usually remains courteous and warm. He is especially sweet to his beloved mate, Dada. He always feels guilty when he must stay away from his beloved, and showers him in gifts in an attempt to make up for his absence.
Likes
:
*Dada (His Mate and Queen)
*Sex
*Snow
*Relaxing
*Wine
*His Kingdom
Dislikes
:
*The Red Queen
*Excessive Heat
*Time Away from his Mate
Strength
: Juka's strengths lay in the ice he manipulates as well as his intelligence and privileges as a monarch.
Weakness:
Juka is loyal to his mate to an almost deadly fault. Juka's life could also be ended by a knife. His ability to heal isn't much better than a human's. He tries to keep this fact hidden from all but his mate.
Friends/family/lovers:
Dada- His wife, mate, and reason for living.
Character history:
Juka was born in a land of cold and snow. His parents died when he was very young and left him alone in a freezing waste land. Heartbroken and lonely, he made his way through the snow and ice to the closest Wonderland village, and from there eventually found his way to the White Kingdom's gardens. He was madly in love with Dada the minute he laid eyes upon him. Dada seemed to feel the same and it wasn't long before the two where married.
Unfortunately, their brilliant plants for a family have been destroyed because of the war. They wish to wait until their is peace again before they dare bring their first child into the world. Unfortunately, the war is lasting longer than they expected...
Role play Sample:
Juka's eyes were filled with affection as he approached his beloved queen in the courtyard. It had snowed the night before, and their lovely garden was blanketed in the beautiful substance. "Dada... My sweet," Juka whispered, smiling as his beloved turned to look at him. "I have brought you something," Juka whispered, leaning against the railing of the dias that looked down upon their courtyard. Tangled in his fingers was the silver chain that held a beautiful cross covered in the white roses that reminded Juka so much of his Dada. "I'm sorry I have been away so much," Juka whispered, undoing the latch of the necklace and placing the beautiful chain at his beloved's throat.
"I will be try to be here more often... So, please listen to my request," Juka purred, an almost impish grin slowly settling over his features. Juka knew what they both really wanted, and he was tired of waiting.