You

Name
:
Gemsom
Age
: 18
Gender
: Female
Instant Messanger(s)
:
gemsom_feathers@yahoo.com
Your muse
Name
: Ibuki
Alias
: None
Band
: D=Out
Gender
: Male
Age
: Unknown [Even to Himself]
Sexuality
: Pansexual
Sexual Position
: Believes he is a Seme
Character Abilities
: He is the Bandersnatch! He has poisoned nails and fangs, and can transform into a gigantic beast. Of course, he can heal any wound afflicted with his poison. Ibuki also heals very quickly.
Race
: Bandersnatch
Rank/Position
: Bandersnatch
Appearance: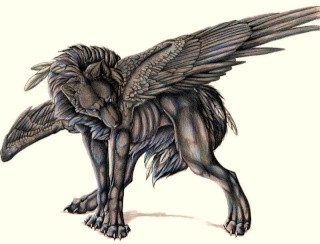 Personality
: Ibuki is cold and vicious. He is very loyal to the Red Queen and Red Prince. He is constantly fighting with his animal instincts. The desire to mate is especially prominent. Sometimes he brings men into his den to sate his lust, but he knows how terrifying he is. Feeling the men tremble in his arms fills Ibuki with guilt. These nights are especially hurtful to him because, as a canine, he desires a true mate. The desire is especially strong because he is the only one of his kind. As a pack animal, Ibuki desperately desires to be accepted. The only acceptance he receives is from the Red Queen and Red Prince, which is why he is so deeply loyal.
Likes
:
*Red Queen
*Red Prince
*Warmth
*Privacy
*Embracing
*Fighting
Dislikes
:
*Upsetting His Partners
*Being Alone
*Cold
*The Fact That He Cannot Fly
Strength
: Ibuki has brute strength, poison, and speed. Ibuki also heals very quickly and can heal the poison he inflicts. There are very few things that the people of Wonderland wouldn't view as a strength.
Weakness
: Ibuki's greatest weakness is his concern for those around him. Though he appears vicious, he is deeply hurt by the looks of fear that his peers give him. Ibuki would have trouble injuring any one of these people.
Friends/family/lovers
:
Ibuki has no one but the Red Queen, who is his precious master.
Character history
:
Ibuki never knew his parents, nor has he ever met one of his kind. He believes that the fact that he cannot fly is because he was born weak, and perhaps that is why he was cast aside. However, his wings were actually clipped when he was young. His healing ability didn't develop until he was older, and so he will never be able to fly... But his kid's might be able to.
Ibuki only remembers being in the Red Queen's care. He doesn't see himself as being a captive. He sees himself as a special guide for his beloved Red Queen.
Role Play Sample
:
Ibuki's eyes narrowed as his gaze traveled slowly across the court yard. None of the people there cared for his master, but the Red Queen seemed to adore the crowd he kept. Slowly, Ibuki lifted his head and sniffed the air. The harem always smelt so wonderfully sweet. Ibuki wanted to approach, but he wouldn't leave his post until the new guards arrived. Ibuki shuddered. He should bed one, but he was determined to fight the urge a little longer. Last time he had brought one of the beauty's to his den, he'd lost control during sex and bit into his shoulder. The Queen, fortunately, had forgiven his transgression, but he had still injured the boy. He hadn't bitten too hard, but the boy hadn't healed yet. Obviously Ibuki had fucked him a little too hard as well, because the poor boy had been limping around. Guilt flared within the Bandersnatch. Maybe it was because he waited so long that he was so rough...? Maybe he'd love that same boy this time. Maybe the smell of what he had done would keep him sane... No, that wasn't fair. Ibuki shuddered, looking away. He would sleep alone again tonight. That was what he deserved for being the wretched creature he really was.